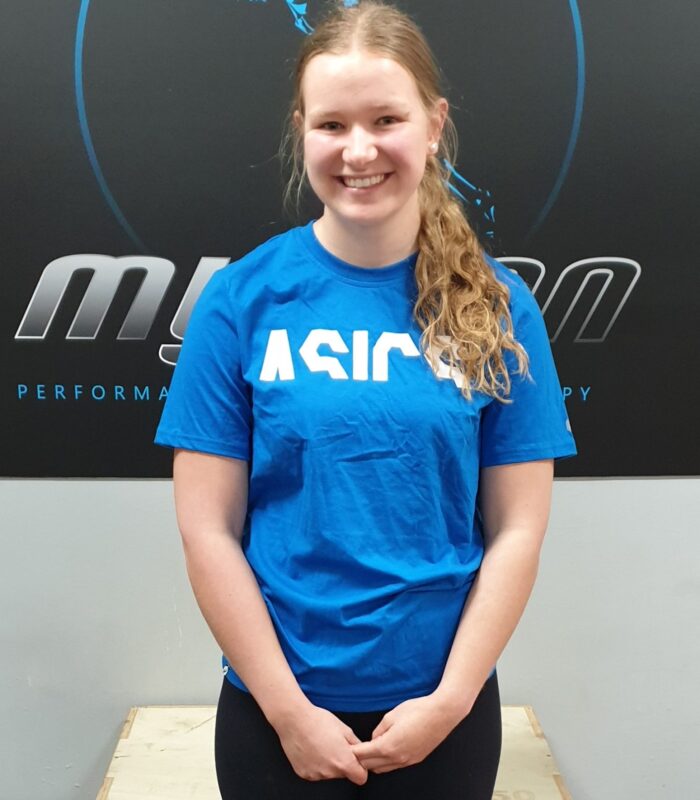 Tassie has been an integral part of the Myogen family for over two years, carving herself an outstanding career in Soft Tissue/Massage Therapy along the way. She approaches each treatment session with intelligence and empathy to achieve the best possible outcome for her client. Tassie uses a wide range of techniques including, massage therapy, dry needling, functional cupping and exercise therapy to achieve personalised results….and if you fancy some training sessions with Tassie in our well equipped gym, she is also a Level 1 Strength and Conditioning Coach with The Australian Strength and Conditioning Association.
Tassie is passionate about sport. She is an elite level Track Cyclist and has represented NSW and ACT from an early age. Her outstanding sporting achievements have not been limited to the bike. She loves smashing a hockey ball playing A and B grade locally and just completed in her first sprint triathlon in Huskisson (just missing out on a podium finish in her age group). Not bad for a first go! The girl has talent.
She has also worked with an array of elite sporting organisations including Athletics Australia, The Melbourne Storm NRL, New Zealand Warriors NRL, and The Australian Women's Basket Ball Team, The Opals.
Tassie a keen interest in lower back issues, running/cycling injuries and all things postural. If you love talking all things cycling, Tassie is the one to see!
She understands the commitment needed to perform at a high level both physically and mentally. With this experience and a genuine desire to help people achieve their physical best, Tassie is a perfect fit to be working with those who share the same passion for a healthy and vibrant life.
email Tassie –  tassie@myogen.com.au
MAKING PEOPLE

GREAT

AGAIN
To talk to a specialist, please complete the form below and we'll be in touch soon!
Feel Free To Give Us A Call.